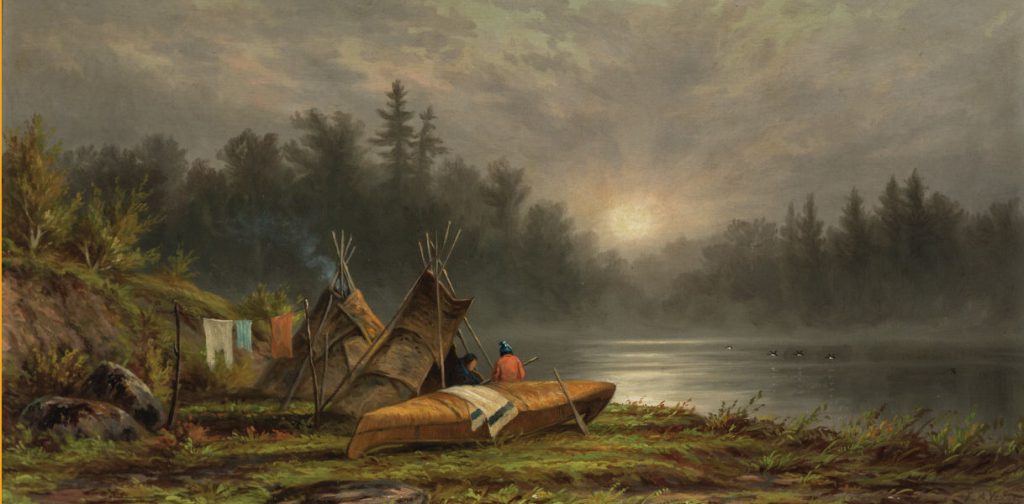 The cliche in the art world is to say "buy what you love". I agree that personal taste should be the driving force in choosing fine art to consider for purchase. But once you've determined a painting of interest there are a host of factors that should be taken into account before you buy for an art collection. Although each artwork requires a set of unique considerations, I have a template or process that helps guide me as I consider paintings for a collection.
Notable Acquisition
In Spring 2019 I had the great pleasure of working with a client to purchase Evening Encampment, by Frederick Verner, at the Canadian & Inuit Fine Art auction held at Waddington's Auction House.
Auction Details:
Frederick Arthur Verner (1836 – 1928), Evening Encampment, 1876
Oil on Canvas, Signed and Dated, 14″ x 28″
Lot 41, May 27, 2019, Waddington's Auction House
Price Estimate: $30,000 – $40,000; Realised Price: $66,000
Using this notable acquisition as an example, I will walk you through my decision making process when evaluating art for a collection. This painting was purchased at auction, so this article also gives an overview of how I prepare to bid at auction.
What are the steps to evaluate fine art?
Find out if the artist is part of any major collections and if they are the subject of scholarly research.
Compare the painting's subject to other works by the artist.
Determine what period in the artist's career the work was painted.
Compare the paintings size to other works by the artist. The general rule of thumb is bigger is better.
Ask for a condition report or have the painting evaluated by a professional restorer.
Research the provenance of the work
Use public auction records to determine the fair market value of an artist.
Step 1: The Artist
When evaluating an artist, I look to see if their work is collected by Museums or important private collectors; if they have had a recent exhibition nationally or internationally and if and how many books have been written about the artist.
Frederick Arthur Verner
There is one seminal book written on the work of Verner, The Last Buffalo, by the acclaimed Canadian Art Scholar Joan Murray.
His work is part of a long list of museum collections including the Art Gallery of Ontario, the National Gallery of Canada and the Glenbow Museum. His last major exhibition was at the Art Gallery of Ontario in 1920.
From all of this I can determine that Frederick Verner has an important place in Canadian culture. But given the delay since his last retrospective we know that contemporary interest is not at the same level as that of an artist like Jean-Paul Riopelle or Emily Carr – who have both had museum shows in the last five year. 
Step 2: Subject
If I'm considering buying a work for a collection, we've already determined that the image captures my client on a visceral level. At this stage I want to understand the significance of the subject in terms of the artist's overall production.
The aim is to indicate work that has a series of pictorial elements that showcase what makes this artist unique and great. Here I'm relying on the opinion of Canadian Fine Art scholars who have researched and written about the artist. I also spend a lot of time looking at images by the artist in art books and at art museums.
First Nation life in Manitoba
Verner is best known for his watercolours and oils of First Nation life in Manitoba. He is also very well known for his scenes of Buffalos on the prairies. Having actually visited and sketched Manitoba, his work is praised for its authentic depiction of 19th century Western Canada.
Verner is part of the Romantic movement that was popular in Europe and North America in the 19th century. Like other Romantic painters, he is known for his ability to create a sense of emotion through expressive skies and atmosphere.
In the later part of his career he moves to Europe and paints the British countryside. These are not considered as innovative as his scenes of First Nation life in Manitoba.
The Encampment scene we are considering has a lot of key Verner elements. It is a beautiful scene of the historic First Nation culture and the scene takes place under a dramatic night sky.
Step 3: Date
Another indicator of a paintings importance is it's date. There is a life cycle to an artists career. Usually an artist will have an early period where they are still finding their voice. A middle period where they have success and make their name as an artist. And finally, a late period when they slow down and the work becomes less interesting. For some artists the opposite is true: they are best known for their early work.
Period after his trip to Manitoba
Verner's best period is considered to be from approximately 1873 to 1900 (although his later Buffalo paintings maintain their status). In 1873 he is documented as travelling west to Manitoba for the first time. During his prime period, his work is based on plein air sketches from that trip and others he did to see his subject. In the 1880s he moves to London and after 1900 he stops visiting Canada. His later work of First Nation life is criticized as less authentic.
Of course it's interesting to have examples of every period in an artist's career. For most collector's, however, there are financial restraints. So when you can't have it all, date is another way to prioritize when buying for an art collection.
The work we are considering is dated 1876, right after his most famous trip west, this is a great date!
Step 4: Size
As a general rule, larger works are valued more than smaller works. What is considered big or small depends on each artist. For post-war abstract artists canvases at 40" x 60" can be considered mid sized or even small.
Historic art from the 19th century was painted on a much smaller scale. In Canadian Fine art from that period it is rare to find paintings larger than 36" x 48" and anything over 17" x 25" is considered big.
Typically an artist like Verner work ranges from 14" x 20" to 20" x 30". Although the artist was known to do some larger canvases. The National Gallery of Canada is home to what is considered Verner's Chef d'Oeuvre, The Upper Ottawa, 1882, which measures nearly 6 feet wide.
A painting like Encampment, 14" x 27", would be considered a mid to large painting for the artist.
Step 5: Condition
With historic art you are dealing with objects that are upwards of 150 years old. When buying for an art collection, it is very rare to find something in pristine condition with no restoration. So when considering the condition of the work, I'm not so concerned if the work has had restoration. My concern is how it was done and to what extent.
The rule of thumb is less is more. First, I'm looking to see that inpainting (paint added by a restorer) is minimal. Next, I'm looking for signs that the canvas might need further restoration. Signs could include loose or slack canvas, pronounced craclure on paint surface, surface abrasions and paint discolouration. When I'm not sure, I get an official condition report from a professional restorer.
Add value
This painting was one of the very very rare cases where the painting had almost no restoration. The painting was on its original stretchers and was not relined. Most surprisingly, there were no signs of inpainting on the surface of the work.
One issue I noticed, when viewing the painting at the auction house, was that the blue of the sky looked somewhat yellowed. The yellowing was due to the unavoidable build up of dust and dirt that occurs over time. This can be resolved, without too much hassle, by taking the work to a restorer and having the work cleaned.
Overall this work was in incredible condition. What is more, by making a small investment to have the work professionally cleaned there was an opportunity to add value to painting.
As part of the collection management process, I made sure to save all invoices and condition reports done by the restorer in our collection files. This kind of documentation will add value when my client chooses to sell or donate the work.
Step 6: Provenance
The provenance of a painting is anything that can trace the history of the physical painting. This information helps to prove that the painting is authentic. An ideal provenance traces the sale history of a painting from its current owner back to the artist. Provenance can be labels from important galleries, an exhibition record or reproduction in an important book.
In Canadian Art it's usual to see works with limited provenances. The art trade of Canadian art was only really established in the 1930's and before that people owning Canadian paintings didn't think to keep invoices or other documentation.
A painting with a limited provenance is not a deterrent for me as an art advisor. Having said that a good provenance does add value to the painting.
The Verner being considered does not have provenance that would add to the paintings value.
Step 6: Price
Ok, so hopefully now you share my enthusiasm for this wonderful painting by Verner! Now it is time to consider price.
Most clients build a collection out of a creative impulse, not as a way to make money. But if you are going to buy Canadian Fine Art, it requires a big investment. As part of my evaluation process, I am looking to find works that I believe will maintain their value over time.
To evaluate the offer price of a work, I look at the auction results for similar paintings by the artist. Going through the records I found four auction results between 2003 and 2015 that were similar to the Verner up for consideration. With the information I find, I create a spreadsheet:
| | | | | |
| --- | --- | --- | --- | --- |
| Lot | Date of Sale | Title | Estimate | Realised Price |
| Lot 41 | May 2018 | Evening Encampment | 30,000 – 40,000 | $66,00 |
| Lot 54 | Nov 2015 | Ojibway Camp | 25,000 – 30,000 | $94,400 |
| Lot 139 | Nov 2008 | Indian Encampment | 80,000 – 120,000 | lot not sold |
| Lot 225 | Nov 1988 | Indian Encampment* | 40,000 – 50,000 | $60,500 |
| Lot 82 | May 2004 | Ojibway Indian Encampment | 10,000 – 15,000 | $34,500 |
| Lot 159A | May 2003 | Indians Tending Birchbark Canoes | 15,000 – 20,000 | $32,200 |
The first row represents the painting I am considering as a purchase for my client's collection. The last two columns show the price estimate and the realised price. The price estimate is given by the auction before the sale. The realised price is how much the painting sells for (including the buyer's premium or the fee paid to the auction house).
Most recently, I see that in 2015 a similar painting Lot 54 sold for $94,400, three times its original estimate. For three of the sales the realised price went above the high estimate. Which suggests that the value of this kind of subject is growing.
There is one outlier to this trend, in 2008 the painting did not sell. There are a lot of reasons a painting won't sell at auction (including bad luck). I did some digging into my auction records and found out that this same painting was offered as lot 225 and sold at auction in 1988 for $60,500. My hunch is that this painting may have failed to sell because the estimate was too high (and scared off potential buyers).
Given the fairly consistent growth in price, I anticipate the work will sell above its $30,000-$40,000 estimate. It is not clear if the painting will match the 2015 price given the failed sale of 2008.
To get a sense of how high the price could go, I look at the overall top auction sale prices for oil paintings by Verner. His top auction record for an oil painting is $188,000 in 2015 for a painting called Indians Shooting the Rapids (lot 138), sold by Heffel. This is a unique sale. The subject of the painting is very rare and is a sought after scene showing a group canoeing down the rapids. More typically the top end of Verner's market seems to fall between $40,000 and $70,000.
Buying at auction
Because we felt the subject, size, date and condition were all exceptional we decided to proceed with the purchase.
When buying at auction, I register as the bidder. My client emails the auction house their personal and billing information and authorises me to bid on their behalf.
With all of the price information, my client and I decide on a maximum bid before the auction. The night of the auction I'm not making any new decisions. We have a clear plan of action and we don't let the excitement of the night sway our emotions.
I'm pleased to say that on this occasion we successfully purchased the painting Evening encampment by Frederick Verner for $66,000.