December 2nd and 3rd, 2020, Heffel and Cowley Abbott respectively hosted their fall live auction sales.
A week before the auctions, Toronto implemented new COVID restrictions effectively halting all in person viewings of the two auction houses' preview shows. The sales were held virtually and bidding was restricted to phone, absentee and online.
Despite these challenges the market proved resilient and sales were strong. The average sell through rate for the two houses was 87% – up from 85% in July and September.
The quality of the work for sale at both Heffel and Cowley Abbott was striking. Several important and unique works were for sale including an iconic1965 Jack Bush (lot 24), a very large James Morrice (lot 116) and an unique John Little (lot 152).
A take away from these sales was the importance of date when evaluating the worth of a painting. Every artist has a prime period that is most critically acclaimed. Works from this period are often harder to come by and will have a higher value than other works by the same artist.
Top Sales
At the top of the market, Jean-Paul Riopelle narrowly held onto top position with two million dollar sales at Heffel. Sans Titre (lot 16) and La ligne d'eau (lot 38), sold for $1.4M and $1.2M respectively. Sans Titre was the auction cover lot and is an important early work by the artist. Although an impressive figure the sale fell slightly below market expectations and a recent 1.7 M sale for a similar painting (Sans titre, lot 59) at the Sotheby's Rembrandt to Richter Evening Sale held in London this July.
Next at Heffel, the post-impressionist painter James Morrice sailed past the million dollar mark with a $1.1M sale for La plage (lot 116). It was an important sale that will help to solidify the artists top end market. The sale was only the artist's forth million dollar sale at auction and his third highest realised price at auction.
The artist continued to have a fantastic week with two more important sales. A small study Coast in Brittany (lot 28) sold four times its presale low estimate for $45,600 at Cowley Abbott and another Brittany landscape, Harvest Time – Brittany (lot 143), sold six times the presale low estimate for $97,250 at Heffel.
Jack Bush capped off the auction week setting a new auction record for the 1960s painting Column on Browns (lot 24). The painting sold for $870,000 at Cowley Abbott, $100,000 over the artist's most recent auction record for a similar sash style painting (Red Side Right, lot 3), set in July 2013 at Christie's Post War and Contemporary Art sale.
Strong mid-market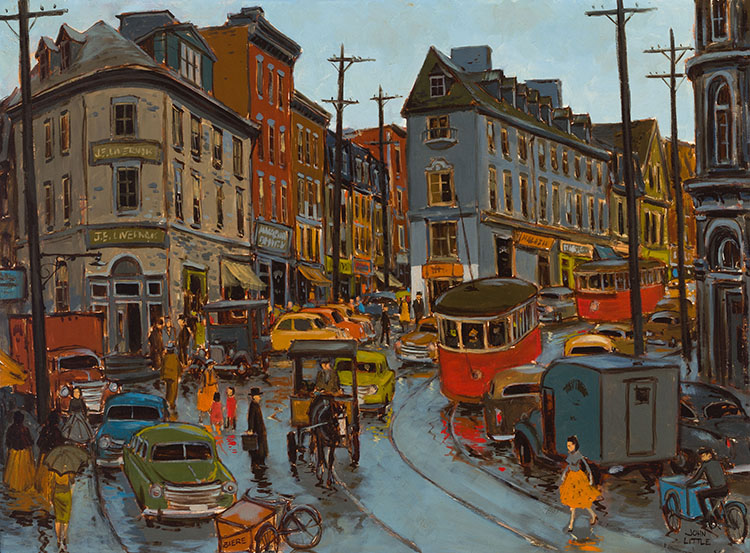 Sales performed equally well at the mid-range of the market.
The Heffel Impressionist and Modern sale started with a blast when a Group of Seven era A.J. Casson, Lake Rosseau (lot 104), sold three times over it's presale low estimate for $79,250.
John Little capped off the night at Heffel, selling an early 1950s period painting, Rue Fabrique, Quebec (lot 152), four times its presale low estimate for $133,250. The sale was an auction record for the artist.
What made the sale even more exceptional is the fact that the same work sold in November 2015 at Waddington's (lot 6) for $30,680. Little's former auction record was set only last year at Heffel's fall sale when another early 1950s canvas sold for $85,250. Both sales suggest growth in Little's market. This is likely influenced by his recent retirement from painting and a 2017 retrospective, City Life from 1951, and book publication by the Alan Klinkhoff Gallery.
Two works by Jock Macdonald and Tom Hodgson of the Painters Eleven group also performed well. Macdonald's 1956 Pulsing Sound (lot 20) sold two times over its presale low estimate for $31,250. Hodson's early Non Objective (Bluish) (lot 11) sold almost three times over its presale low estimate for $72,000.
Growth in female art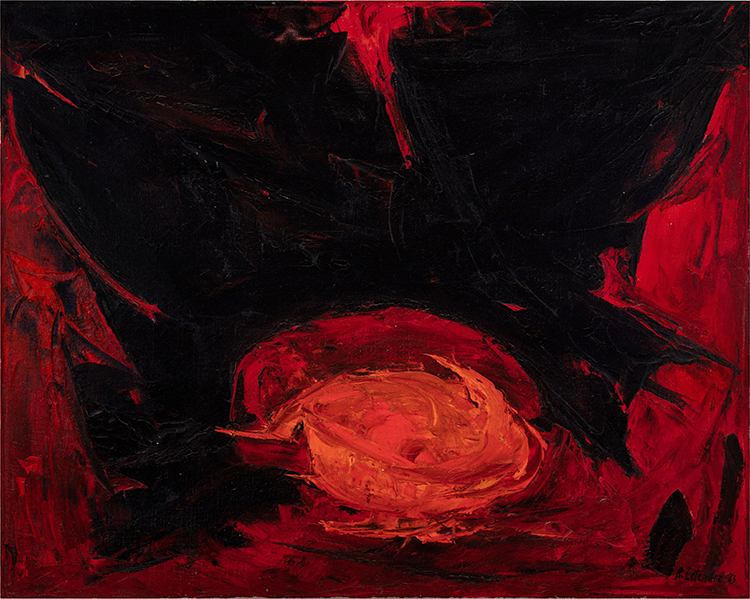 Female artists are dramatically underrepresented at auction. This fall, 15% of Cowley Abbott's available lots and 9% of Heffel's were produced by women. There is, however, a growth trend in the price of many female artists at auction.
Emily Carr continues to be an overall market leader at auction. This fall Carr had three important sales suggesting continued market strength. Cowley Abbott sold a late landscape, Forest Glade (lot 30), for $216,000 and Heffel sold another landscape from the same period, June (lot 115), for $277,250. A third watercolour, South Bay, Skidegate (lot 124), from the late 1920's sold well over its estimate at Heffel for $811,250.
What sets the earlier watercolour apart from the two late period Carr's sold the same week? South Bay was painted on the island of Haida Gwaii and during an important period for the artist (when she was exchanging with members of the Group of Seven). The iconic location and period both contribute to the value of the painting.
Another female artist who is quietly establishing her market is Rita Letendre. In 2017 the Art Gallery of Ontario held an important retrospective, Rita Letendre, Fire & Light, that reframed her legacy as not only an important member of the Quebec Automatiste movement but also a pioneering voice of post-war indigenous art.
Letendre's price at auction has consistently grown over the past couple years. This sale was no exception. A highlight for the artist was the sale at Heffel of an early 1950s work, Lutte (lot 28), that sold two times over it's presale low estimate for $52,250.
Contemporary Art
The Canadian contemporary art market is being led by indigenous artists. This trend extends to contemporary art being sold at auction. At Heffel a recent Lawrence Yuxweluptun painting, Untitled (lot 30), sold two times over its presale low estimate for $55,250. The sale was a new auction record for the artist.
More generally, contemporary art continues to be an area of opportunity for bargain hunters. Unlike the international art market, Canadian contemporary art tends to sell below its normal retail value at auction.
A fantastic John Hartman, Tar Island (lot 64), came to auction at Cowley Abbott. The painting has a great date (2001) and highlights the artist's aesthetic (soft brushy skies, impasto landscape). The work did well and sold between it's presale estimate for $9,000. Another great find was an Evan Penny, Back of Danny #3 (lot 46), hanging sculpture that sold at Heffel for $28,125.
The next live auction cycle will take place in spring 2021.