On June 3rd, 9th and 23rd, 2021, Waddington's, Cowley Abbott and Heffel respectively hosted their spring live auction sales.
The art market was strong going into this auction season. Art has seen a boom throughout COVID – stuck at home buyers used this down time to expand their collections.
Both the spring and fall 2020 auction seasons saw important Canadian art selling well over their auction house estimates (sometimes two to three times over asking). Notable examples include a painting by the contemporary Indigenous artist Lawrence Yuxweluptun, Untitled (lot 30, Heffel), which sold two times its estimate for $55,250 and an early Lawren Harris (Lot 42, Waddington's) that sold well above its estimate for $132,000.
Despite a relaxing of restrictions, this spring auction season gave more strong results. The average sell through rate for the three houses was 91%. Of special note, the Cowley Abbott auction came close to being a white glove sale with only two unsold lots the entire night!
This season, Emily Carr took centre stage with two exceptional sales at Heffel. Tossed by the Wind (Lot 116), sold for $3,121,250 and Swirl (lot 120), sold for $2,341,250. Both paintings sold two times their estimated price.
Historic Art
Carr's success spoke to a wider appetite amongst collectors to purchase work by historic women artists. At Cowley Abbot a portrait, Mrs. Decco, by Prudence Heward (lot 28) set a new auction record, selling for $90,000. At Heffel, the historic watercolour artist Frances Anne Beechey Hopkins set a new auction record for the painting, A Green Pool, French River, Canada (lot 101). The painting sold six times its estimate for $193,250.
Cornelius Krieghoff and Homer Watson, contemporaries of Hopkins, also had impressive sales.
Quebec Farm, by Krieghoff (Lot 122), sold at Heffel for $571,250, a new auction record for the artist. Another large scale painting by the artist, Moonlight, (lot 16) sold at Waddington's for $390,000, well above its estimate. The Old Mill, by Homer Watson (Lot 3), sold at Cowley Abbott, three times its estimate for $38,400.
Historic art from the late 19th century was at its market height in the mid 1980s. Since then tastes have shifted away from art from this period towards modern and post-war art. While 19th century Canadian art may not be of central interest, these stellar sales are a reminder that iconic works from this period continue to increase in value. 
Post-War Art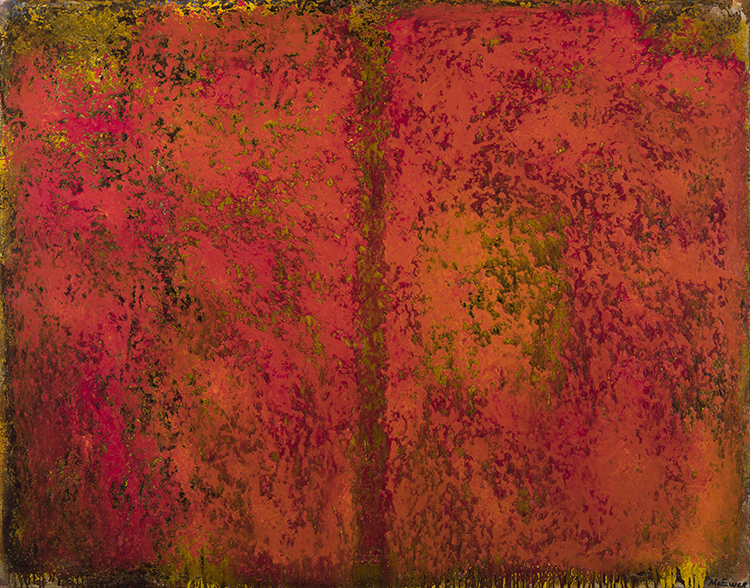 Results from the top end of the post-war market were mixed. 
Two large works by the acclaimed Jean Paul Riopelle (lots 31 and 42) failed to sell. But a very small painting by Riopelle sold six times over its estimate for $205,250. This 1978 painting was from a critical juncture in the artist's career when he returned to Quebec after spending two decades in Europe. This return to Quebec would inspire a new body of work around ideas of Canada's north. Work from this period was featured this year in an important exhibition at the Montreal Museum of Fine Arts. The sale proved that it's not always size but often the story behind a work that matters. 
A contemporary of Riopelle, Indigenous artist Rita Letendre, set a new auction record for a large scale work from her early Automatiste period. This unique painting sold four times its estimate for $289,250 at Heffel. Another standout from the Montreal school was a powerful Jean Albert Mcewen, Sans Titre, that sold two times its estimate for $181,250 at Heffel.
Art by colour fields artists like William Perefudoff and Jack Bush performed well. A mid-sized Perehudoff (lot 29), AC-01-007, sold two times its estimate for $22,500 at Heffel. Bush had two impressive sales. First at Waddington's the painting Green Up (lot 26) by the artist sold for $324,000 and later at Heffel Yellow Road Mark (lot 16) sold for almost twice its estimate for $391,250.
Contemporary Art
Contemporary art sold surprisingly well this spring. As a general rule, Canadian contemporary art tends to sell below its retail price at auction. But this season proved that exceptional works will sell for exceptional prices!
An iconic painting from Wanda Koop's Green Zone Series sold well above its estimate for $31,200 at Waddington's. This series from the early 2000s explored the confused way in which the media covered the American invasion of Iraq and Afghanistan. Some twenty years later the work has renewed cultural significance.
Green Tree Blue Tree, by Kim Droland (lot 43) sold at Cowley Abbott for $66,000, an auction record for the artist. The work was originally exhibited as part of an important retrospective for the artist at the McMichael Canadian Art Collection. Another contemporary landscape artist, John Hartman, set an auction record for a painting, The Old Port and Mount Royal (lot 75), at Cowley Abbott. The painting is part of his iconic cityscape series from the early 2000s. The painting sold for $24,000.