Bobbie Burgers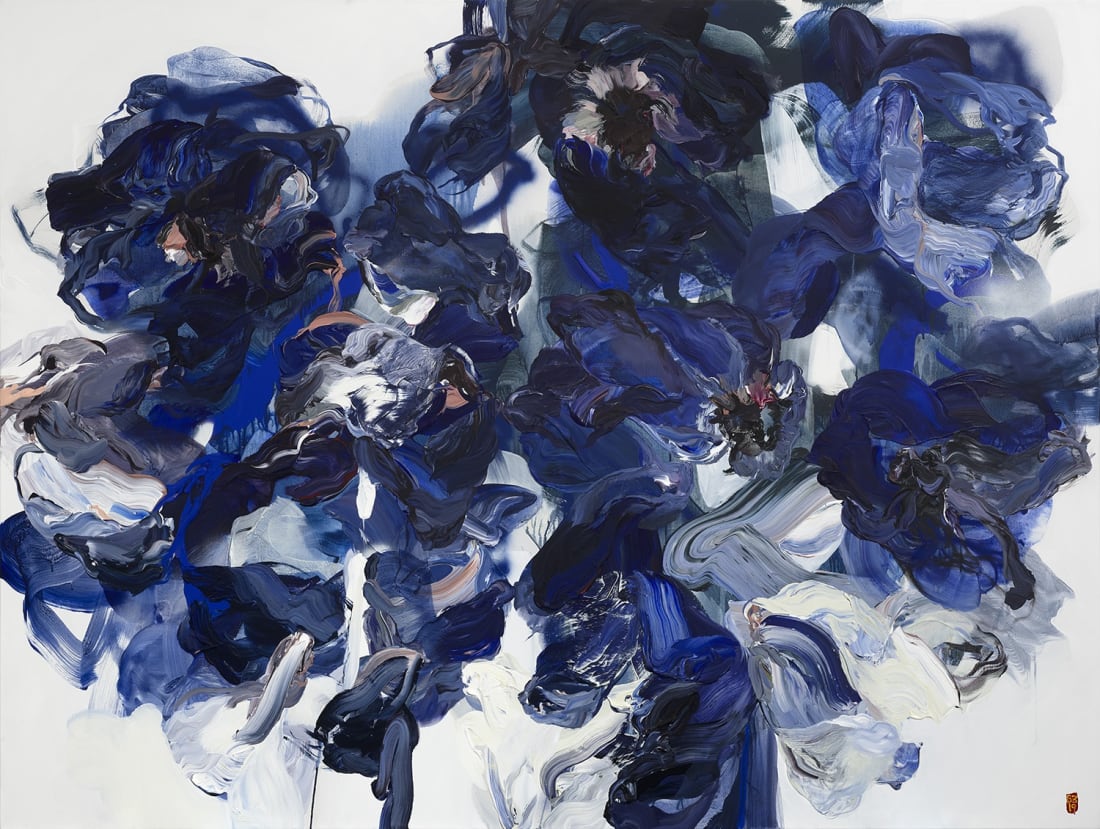 This year the Bobbie Burgers surprised the art world by taking on a new gallery Nicholas Metivier Gallery. She used the opportunity to make a shift in her aesthetic. She is currently represented by Equinox Gallery in Vancouver, BC and Nicholas Metivier Gallery in Toronto, ON.
I love seeing the evolution of an artist's style! Burgers is not a small name in the Canadian art world, she has dominated the scene for years now. It would be easy for her to stick to her popular flower inspired canvases. But with this new body of work, she blows up the flowers and gives us something that exposes her debt to the abstract expressionist movement.
In her artist statement she credits the great early abstract painter Joan Mitchell as an influence. Seeing the new work, I couldn't help thinking about the Mitchell painting on view at Heffel Auction House last November. There is a clear call to the older artist in Burgers new work.
At the same time she hasn't abandoned her earlier style. I see a thoughtful but intentional evolution of style with this new body. It's very exciting!
Kathryn Macnaughton
This Toronto artist builds on the history of Abstract Expressionism and combines it with a contemporary aesthetic. She is currently represented by Bau-Xi Gallery in Toronto, ON, and Vancouver, BC.
With a background in graphic design Macnaughton composes lively compositions by combining graphic shapes. In her early work these shapes referenced nature (female form, plant life, ect) but more recently she has let herself go full abstract.
What sets Macnaughton's work apart is the loose wash treatment that fill her shapes. There is this wonderful tension between the hard edge of the shape outlines and the soft bleeds that define their silhouettes. The work feels both controlled and chaotic and loads of fun!
Melanie Authier
Melanie Authier is a painter's painter. Her work engages and plays with the act of painting. She is currently represented by the Georgia Sherman Project in Toronto, ON.
Authier describes herself as an abstract artist who uses strategies borrowed from representational art. Processed through an abstract vocabulary she explores elements of the painting tradition like colour, edges, mark and space.
Her work is a return to a 1950s school of abstract painting where all of the thinking and play happens on the canvas. The artist starts by creating a problem (maybe two colours that don't complement or a total lack of colour) and than she tries to find a solution through the act of painting. There is such swagger and confidence to her work!
David Alexander
David Alexander is an established contemporary painter who has been exhibiting across Canada since the 1980s. He is currently represented by Bau-Xi Gallery in Toronto, ON, and Vancouver, BC. This fall several of his early works have come to auction at Heffel Auction and Cowley Abbott. An artists auction record speaks to the longevity of their market.
As a collector, it is also an opportunity to study the artists progression as an artist. Comparing the early Alexander painting with his current works highlights his use of space, an essential element in his work.
In his early art there is a certain freedom in his depiction of space but he ultimately maintains a classical depiction of depth in his landscape.

In his more contemporary work the landscape is separated and flattened out. Alexander breaks his work into two categories, wet and dry. Landscape is made separate from waterscapes. Also by focusing on one part of nature he plays with perspective and flattens out any sense of space. Instead of depth he gives us a kind of staking sensation.
By reducing the sense of space Alexander pulls his landscapes into the realm of abstract painting. I've always loved art that straddles the abstract and landscape genre and Alexander is a standout example.
Marie Claire Blais
Marie-Claire Blais is an exciting artist because she is not afraid to chase an idea. She is currently represented by Blouin Division in Toronto, ON, and Montreal, QC.
Over the past decade she has been making art that explores and plays with the material burlap. It started during a 2013 residency in Mexico, when Blais noticed the omnipresence of this commercial material. For Blais there was an interesting tension between the cheap cost of the material and its central importance.
Moving the material into the gallery sphere, Blais challenges her audience to associate a commercial grade material with fine art. Over the next several years Blais has experimented and played with the material in a variety of ways.
Already using aerosol spray paint in her practice she first started using the burlap as a kind of stencil. Pulling and loosening the weave she used her burlap stencil to build up colour and create paintings that from a distance look like intricate tapestries.
Next, returning to a black and white composition, Blais started to work directly on the burlap – using it as her canvas. Dying the fabric she plays with the texture of the material giving an Agnues Martin grid feel to the work.
Finally in her latest 2020 series Blais uses the material as a painting surface but takes the work a step further by cutting and reforming her surface into a kind of sculptural form.
This is a great example of an artist who makes play a central force in their practice.